As marketers, we're always looking to invest our resources in marketing tactics that produce real results. That's why so much of what we do centers around inbound marketing -- from building campaigns, to creating must-have content offers designed to attract the right leads to your company.
While inbound marketing has incredible value for any business looking to generate leads, educate and build relationships with prospects and customers (ie: every business), it isn't always the highest returning lead generation solution for every company.
For B2B and enterprise businesses in particular, where sales cycles are long and customer lifetime value is high, the lead generation process is a challenging one.
In order to convert, prospects must realize they need your product/service, be convinced that your particular solution is the best one, determine its value outweighs the cost, be ready to implement a major internal change, and possibly get more than one decision maker onboard.
Because of this, it comes as no surprise that a whopping 68% of B2B organizations have not identified their funnel [Source: MarketingSherpa]. With so many pushbacks for you to overcome, it often takes a highly personalized approach to get an "in" with your target prospects -- which has led a number of B2B companies to explore the benefits of account-based marketing.
Account-based marketing (ABM for short) is a highly targeted sales and marketing approach that actively and directly markets to a specific list of accounts and prospects. Whereas inbound marketing puts the focus on creating content that attracts leads, account-based marketing places its emphasis on individual, pre-decided prospects and accounts.
For years, the online marketing industry has been focused on attracting prospects to your company overtime, so adjusting to a seemingly opposite approach is sure to raise some doubts. However, account-based marketing is more of an add-on to your existing marketing plan than it is a replacement to inbound marketing.
You may be wondering how this hot new approach will benefit your ability to acquire, retain, and grow high-value accounts. These account-based marketing statistics and figures will help put the benefits into perspective.
Get multiple decision makers on board
Account-based marketing allows you to target each decision maker within an account with high value, relevant content and communications, in order to get them on board and speed up the sales process.
Nearly 2/3 of B2B marketers identify engaging key decision makers as their top challenge. [

Source: Forrester Research

]

On average, 5.4 people now have to formally sign off on each purchase (

CEB in HBR

).

In a typical firm with 100-500 employees, an average of 7 people are involved in most buying decisions. [

Source: Gartner Group

]

78% of decision makers polled have taken an appointment or attended an event as the result of an email or cold call. [

Source: DiscoverOrg

]

95% of buyers chose a solution provider that "Provided them with ample content to help navigate through each stage of the buying process" [

Source: DemandGen Report

]

In 2007, reaching a prospect took an average of 3.68 cold call attempts. Today it takes 8.

[Source: TeleNet and Ovation Sales Group]

Sales reps using social selling are 50% more likely to meet or exceed their sales quota.

[Source: Liz Gelb-O'Connor]
Seventy percent of consumers click on "

known retailers

" first
High Return on Investment
Strategically applied resources paired with highly targeted marketing directed at key decision makers and accounts that fit your ideal customer profile produce high ROI.
Eighty-seven percent of marketers measuring ROI say that ABM outperforms other marketing investments. (

ITSMA

)

Email marketing has 2X higher ROI than cold calling, networking or trade shows.

When ABM has been in use for at least a year, 60% of users reported a revenue increase of at least 10%, and 19% reported a revenue impact of 30% or greater (

DemandBase in eWeek

)

Companies that nurture leads make 50% more sales at a cost 33% less than non-nurtured leads. [

Source: Forrester Research

]
B2B marketers recognize the value of ABM
B2B marketers are implementing account-based marketing strategies, and they're delighted with its results.
More than

90% of marketers

believe account-based marketing is essential.

80% say that ABM outperforms other marketing initiatives.

(ITSMA

)

92% of B2B marketers worldwide consider ABM "extremely" or "very" important to their overall marketing efforts. (SiriusDecisions)

84% believe that ABM provides significant benefits for retaining and expanding current client relationships. (SiriusDecisions)
Aligns sales and marketing
ABM aligns sales and marketing while focusing both teams on the highest value accounts.
Alignment of sales and marketing impacts revenue growth up to 3 times

[Source: Bulldog Solutions]

Companies with aligned sales and marketing generated 208% more revenue from marketing

[Source: MarketingProfs]

When sales and marketing teams are in sync, companies became 67% better at closing deals

[Source: Marketo]

Companies with mature lead generation and management practices have a 9.3% higher sales quota achievement rate.

[Source: CSO Insights]
Expand existing accounts
ABM has implications beyond simply prospecting for new business. Applying it to your existing accounts pays off.
Nearly 85 percent of marketers said ABM provided significant benefits to retain and expand existing client relationships (Marketo).

Increasing customer retention rates by 5% increases profits by 25-95%

[Source: Bain & Company]
By dividing administrative tasks like prospecting, emails, and scheduling with marketing, sales has more time to focus on taking and making calls with sales-ready prospects.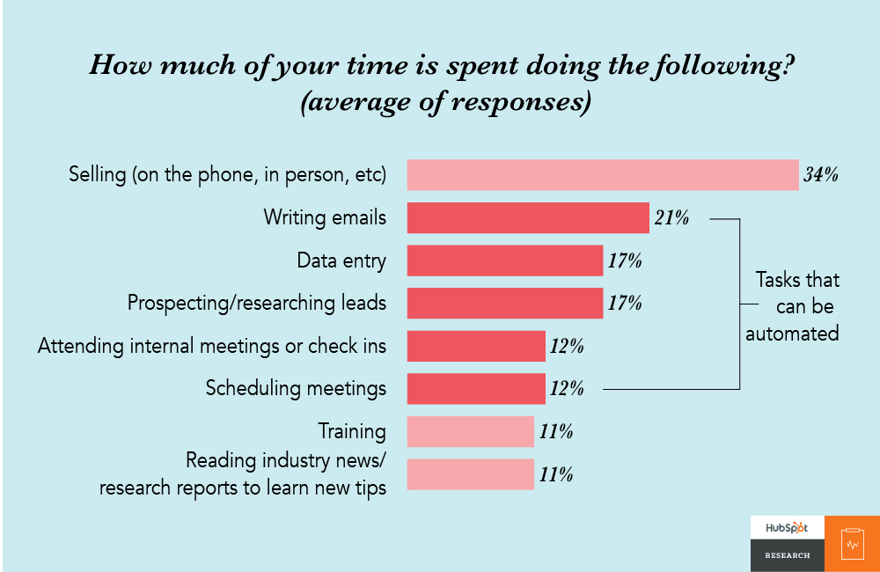 Even with the benefits ABM provides, your online marketing strategy would be empty without the coexistence of an inbound marketing strategy. Before you consider throwing your inbound and content marketing strategy out the window, consider the following:
Your buyers are searching.

In the

2014 B2B State of Procurement Study

, Accenture found that 94% of B2B buyers did some kind of online research before making a purchase decision, while 82% of buyers viewed at least 5 pieces of content from the winning vendor. [Source: Forrester]

Purchase price correlates with amount of research.

For more than 90 percent of B2B buyers, the amount of their product research is determined by the price of a purchase. As the cost increases, so does the amount of research (

Salesforce

).

Content helps your sales team.

88% of missed opportunities were caused because sales couldn't find or leverage internal resources. [Source: Qvidian]

Your competition is blogging.

Everyone is blogging – making it harder to get noticed. But by cutting yourself out of the picture completely, you're only guaranteeing you won't get noticed.

Your online presence should be extensive.

Over 50%

of customer interactions happen over a multi-event, multi-channel journey – emphasizing the importance of being active across multiple channels.

Relevance matters.

Of nearly 200 marketers surveyed, 95% identified "better tailoring of content" as a

top priority

.
Introducing an account-based marketing strategy isn't a matter of switching from one marketing approach to another. ABM works best when it's applied alongside inbound marketing, and vice versa.
Curious as to how you can work both simultaneously in order to create and sustain relationships with the highest value prospects, using strategically applied resources? Use these account-based marketing strategies to earn a response from your key decision makers.