Many enterprise companies suffer from the common misconception that as long as your website provides sufficient information about your services, then a contact form and a phone number are enough to convert leads.
However, this misconception significantly hinders your online lead generation efforts. Here's an example of why having a contact form alone doesn't cut it.
Say you're looking for a new software platform and are researching various options. Company A has an informative website that details information about their software, has video examples and looks like a promising option. Their website displays a phone number and a contact form. You're still in the research stage, so you decide it's not time to contact them yet.
Continuing your research, you come across the website of Company B whose software looks equally promising. They also have a phone number and contact form, but as you search through the website pages you also see options to "schedule a demo" or download an eBook on "How Company B's Software will Increase ROI." You fill out the download form with your name, company and email address and instantly receive the eBook in your inbox.
While both software solutions are a good fit for your needs, Company B now has your contact information and can periodically follow-up with you, sending you information that will help you as you determine which product is best for you. With Company B's informative, helpful eBook and top-of-mind follow ups, their chances of closing your sale are higher than Company A.
That's the power of leveraging content to attract more leads and convert them. Here are some tips you can apply to your enterprise content strategy to get your existing content to do the same.
What Content Can You Leverage?
Chances are, you already have several content pieces that could be placed on your website with a lead capture form and used to increase conversions. Think of content that would be useful to your target prospect and content that typically helps you guide a lead through your sales process. If a prospect thinks your content has potential value to them, they will be more inclined to provide their contact information in exchange.
Enticing content can include:
Case study PDFs

eBooks, guides, checklists, etc.

Video demonstrations

Webinars
All of these assets should have a place and a purpose on your website, in addition to any other marketing or sales collateral materials you use in your sales process, such as free trials.
Now some may think, "well I already have these items on my website and I want them to be seen, not hidden behind a form." However, there is a real issue with providing too much too soon. Think of a first date — you wouldn't tell someone your entire life story in the first few minutes of meeting them. The same should apply to your website. Plus, if your offer is enticing enough, your prospect shouldn't have a problem filling out the form in order to receive the content. In other words, if you're not leveraging forms, you're missing out on an opportunity to capture contact information from qualified prospects, which may also equate to you missing an opportunity to get that prospect back to your website.
Here are some examples of how we combine lead capture forms with lead-gen content to generate leads for our clients: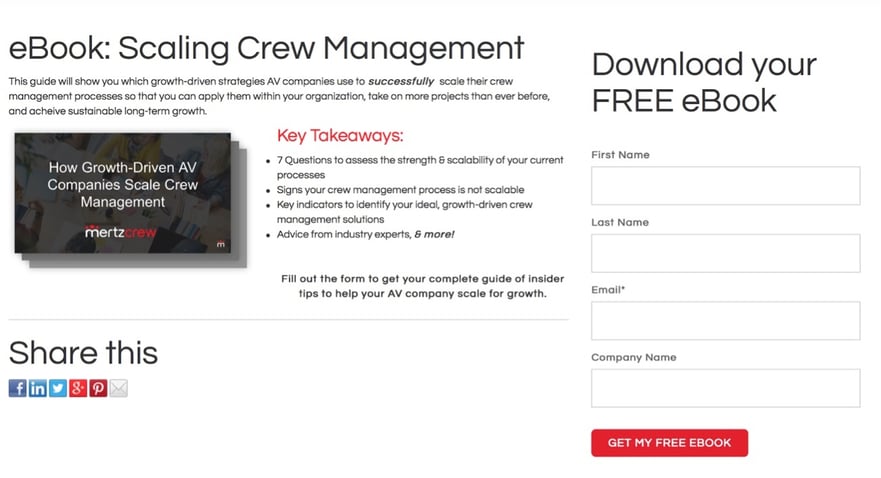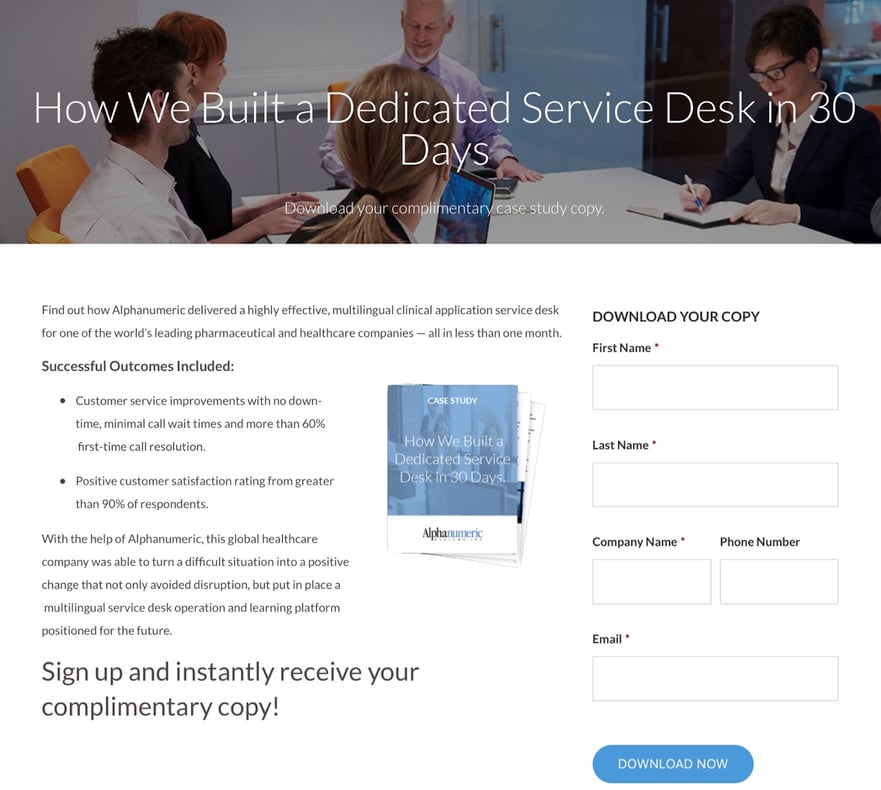 Once you've gathered your content, created the associated landing pages, forms and calls-to-actions, you'll place these CTAs throughout your website pages and blog posts so that your prospects have the option to convert into a lead the moment they're ready. As your website visitors increase, you'll organically see increases in views to your new landing pages, and leads conversions as well.
How to Leverage Content Beyond your Website
Getting visitors to convert once they've already found your website is one thing, but what if you want to expand your lead generation efforts even more, to prospects that haven't yet discovered you, or to those that didn't convert the first time?
In addition to leveraging content on your website itself, you can also use your content to drive prospects to you.
B2B companies that want to attract more prospects using content should explore these options:
LinkedIn advertising & prospecting

—

80%

of B2B social media leads come from LinkedIn making it a platform you must use to promote content. There are several ways to engage LinkedIn users with your new lead-generation content.
Retargeting

— eBooks, checklists, case studies and similar content are perfect for social and web retargeting. If a lead viewed your page about "product X" then you should have a custom retargeting segment setup with a lead-generation offer specific to "product X." While these clicks might be fewer and farther between, they do produce a higher quality lead.
Content promotion and distribution -- If you've been doing any content marketing, y

ou likely have a ton of great content offers and blogs already. And if you shared them and promoted them on social media when you published them, you're off to the right start. However, you can get even better results out of your content by recycling it and re-sharing it to social media again, down the road.

While it's good to always keep your blog fresh with new content, published consistently, it's not all about content creation either. Content promotion and distribution play a large role in whether your content will be seen and how that translates into website visitors and new leads. Tweak your existing content, make it better, re-share it and pay to sponsor or boost it so that it's seen by more eyes -- rather than sharing it once and then letting it get buried under all of your new blog posts.
If your website generates traffic that doesn't convert, then content-based lead generation and lead-gen website optimization might be the answer. Schedule a discovery session to see how we can turn your website into a primary source of new leads.