It's another Monday morning meeting with your sales team and you're feeling discouraged about the number of enterprise leads coming in for the month. Gary has a few warm prospects he's slowly working down the sales funnel and Mike is working hard to close a new promising account but, overall, there are few new accounts on the horizon.
As the marketing director, you know that attracting enterprise decision makers is not a simple task and requires just the right lead at the right time. But you also know you have a rather empty sales pipeline that needs to be filled, and quickly.
As the meeting goes on you realize that different team members are mentioning the number of leads they were trying to engage, but have since gone or remain cold for any number of reasons. This is a substantial list of your target prospects and could be a marketing goldmine with the right campaign. Using this list as a jumping off point for a multi-channel lead generation campaign could be exactly what you need to fill that pipeline. The strategies below will help you pull off a successful campaign that attracts and engages those C-Suite buyers.
Step 1 – The Campaign Conception
Don't take your cold leads list and run off to brainstorm campaign ideas on your own. Set up a brainstorming meeting between marketing, sales and an executive who will champion the project.
Cutting the ties between sales and marketing is a huge mistake that roughly 40% of businesses make. Your sales team knows your target audience, knows this list and knows which topics they will be interested in. So use this data! Collaboration between sales and marketing will always result in a more successful outcome.
Choosing the Audience
Together, use your cold lead list to identify targeting factors that will help you create a social media audience of your ideal customer profile.
Industry

Company size

Location

Job titles

Job function

Annual revenue
The Campaign Offer
Now that you have your audience in mind, it's time to consider your campaign offer. Prompting them toward a demo or sales call right out of the gate is generally too big of an ask for a prospect who has never before seen or heard of your company, so consider ways you can offer relevant and timely value.
By selecting a topic that will provide value in an industry-relevant way, your offer will also work to help qualify prospects.
As you brainstorm ideas with your team, discuss the topics these prospects would both be interested in and are complex enough to hold an engaging discussion. Be specific. What specific struggle is your target dealing with, perhaps related to the time of year? Is there a new industry initiative the prospect will need to implement, but might not know how? Is there a platform or software in common that some may be struggling with?
When you have a few strong ideas, narrow them down by condensing the topic into one short, attention-grabbing headline. Make sure this headline uses a how-to, numbered step, ROI feature or achieving double or 3X of something for the best results. See example below.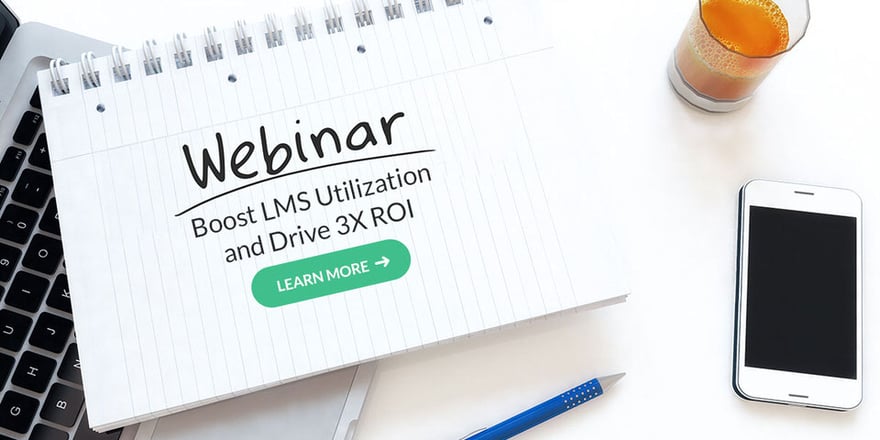 Step 2 – The Who, What, When, Where and Why
Now that you have your ideal customer profile and your campaign concept, it's time to get down to the details. For this article we're going to use a webinar campaign as an example. We've found that webinars are very successful for B2B and enterprise clients -- producing not only quality leads, but also generating brand awareness in the process. However, you could also test out an eBook, market research study or informational video with lead-capture functionality.
For now, let's say you're ready to dive in and create a live webinar. Let's hammer out the details:
Who will be hosting or moderating the webinar? Who will be the primary speaker? And will you have any guest speakers join as well?

The marketing director is a great choice for the moderator or host because you're familiar with the content, the audience, and can step in at any time if needed. Also, ask if the executive overseeing the project would be willing to be the primary speaker. This adds credibility to the campaign and signals to your prospects that the information is highly valuable.
What are the specific topics you will cover and in what format? Break up the content into three or four sections and discuss ways to best present it. Should you have two speakers discussing the points on each PowerPoint slide? Or does a Q&A format make more sense?

Include a few audience participation polls to keep them engaged. Use the responses to tailor the conversation to your audience without having to open up a Q&A in the middle of the presentation.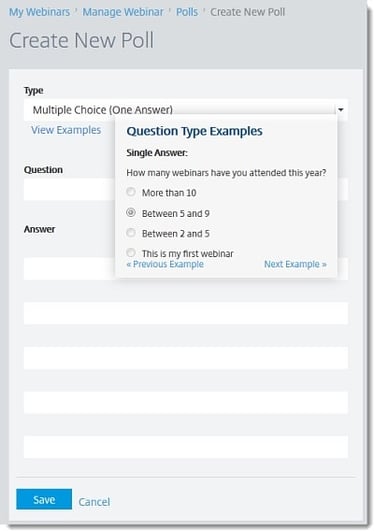 When will the webinar be held? Make sure to choose a day and time that your target prospect is likely to have open. Begin advertising at least two to three weeks before the date and send reminders both the day of the webinar and an hour before.

Depending on attendance, consider hosting the same webinar a few days later on a different day and time. Send the offer to no-show prospects who may have missed because of a scheduling conflict. Record both webinars to save for later use. Send the recording to final no-shows and consider placing it behind a landing page for future lead capture efforts.
Where will the webinar be hosted? We recommend using GoToWebinar as the registration and hosting platform. Their features include recording options, live viewer polling, multi-speaker and presenter functions, email reminders and the platform is user-friendly.

Instead of using their generic registration link, integrate their registration with a designed and branded landing page of your own for more flexibility. If you're using a HubSpot landing page simply go to Integrations and then click to authorize access to your GoToWebinar account.
After the integration is set, go to edit your landing page form and scroll down until you see "GoToWebinar Registration" and choose the correct webinar. Prospects will sign up on this landing page will be added as both contacts in HubSpot and in your GoToWebinar account.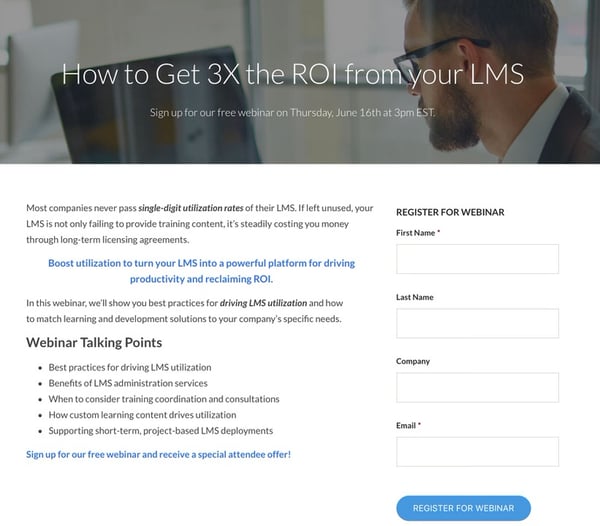 Why should your target prospect attend the webinar? Obviously you're hoping to offer them valuable information, but is this enough to entice them to attend?

Consider incentivizing the webinar by providing attendees with a tangible offer. An assessment, a free trial, or anything that will add more value to further attract your target audience.
Step 3 — Advertising and Attraction
Remember that cold lead list from your sales team we discussed at the beginning? Now it's time to put it to use.
The Cold Lead List
Segment this list into different persona groups who will respond to different messages. For example, if you want to test the interest rate of Managers versus VPs, the Manager is more likely to respond to messaging focused on helping them solve a specific problem, whereas the VP is looking for more high-level improvements.
Next, create an email workflow campaign tailored to each group with an invitation to the webinar in each email. We recommend sending four to six emails, the first two within 48 hours of each other, with the rest spread out weekly. Keep all emails short, direct and conversational. The biggest mistake you can make here is coming off too "salesy" when inviting a prospect to attend your informational webinar.
Creating a New LinkedIn List
If you have a very large list and want to focus all your efforts only on this list, then this section isn't for you. But if you want to take your campaign one step further and add new prospects into the mix, then keep reading.
We've found LinkedIn to be a very useful platform for enterprise and B2B clients targeting managers, directors and C-Suite professionals. By investing in LinkedIn Sales Navigator, you can build a list of potential prospects based on the specific profile requirements you've already determined. Search for prospects by zeroing in on current job titles, industry, company size, location or a number of other factors. Click "Save Lead" to build a list of prospects and easily view the target companies under "Accounts."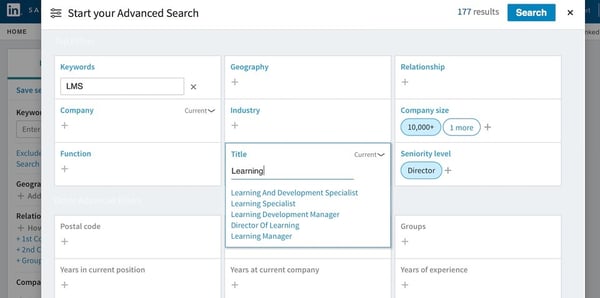 Now you have a fresh new set of prospects to invite to your webinar and, though you can't email them, you can InMail them directly from LinkedIn. Choose the highest performing email and subject line from your cold lead workflows and transfer this to InMails. You can manually email prospects from Sales Navigator, which gives you the opportunity to personalize the emails if you choose. Or you can create a large-scale campaign via the Sponsored InMail LinkedIn advertising platform and A/B test different InMails with different target audiences. With this option you pay by the cost-per-send and the messages are only sent while the target prospect is on LinkedIn.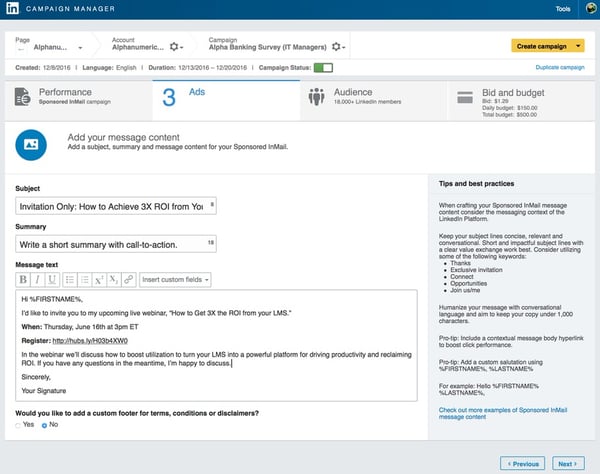 Step 4 — Execution and Follow-Up
By this point you hopefully have several signups for your webinar, have scheduled your reminder emails and your presentation is ready to go. So what's next? Practice, practice, practice. There's nothing worse than attending a webinar where the presenter doesn't know how to work the platform or the speaker is unrehearsed. You worked so hard to get these prospects to attend so make sure you're prepared to deliver a great presentation with helpful information your prospects will value.
Almost finished! Record the webinar and send a follow-up email to the registered "no-shows." You can also save this recording and place it behind a lead-capture form for future use.
And finally, make sure you have a plan set with your sales team to follow-up with all prospects who registered. Follow-up should be no more than a day or two after the webinar date and should be via email and phone if possible. This is your chance to fill your sales pipeline with leads who chose to trust and engage with your company and are already sliding down your sales funnel.