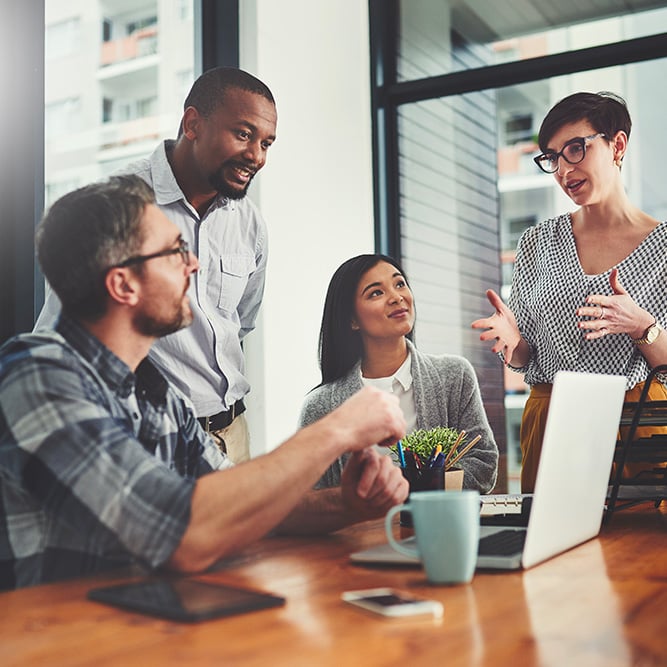 HubSpot Portal Optimization Audit
Designed to drive success for marketing, sales, and service teams of all sizes.
With HubSpot, your team has access to a powerful marketing automation platform and CRM tools—but are you making the most of them? That's where our HubSpot Portal Optimization Audit comes in. We'll dive into your portal, provide expert insight, and help your team get back on track to reaching its full HubSpot potential.
How it Works
Our team will conduct a comprehensive HubSpot portal review and provide you with actionable insights to improve data quality, drive marketing performance, and boost sales team efficiency.

Get in Touch
Once you purchase your Portal Optimization Audit, you'll receive an email with directions to add our team to your portal so we can get to work.

Get Your Goals
You'll also receive a survey asking for background information on the areas, goals, and processes you'd like to prioritize in your HubSpot portal.

Get the Report
We'll conduct our audit and provide you with a detailed scorecard grading your portal and providing actionable recommendations.

Get to Work
Use our recommendations to create your team's roadmap to success—or, partner with our experienced team to continue the job!
Optimize Your Hubs
Keep your flywheel spinning.
A HubSpot portal is only as healthy as its hubs. (Try saying that five times fast!) With our Portal Optimization Audit, you'll come away with the knowledge to optimize all of your hubs and get them working to the benefit of your team.
Marketing Hub – Effective marketing campaigns run on optimized metrics, organized files, and streamlined processes.

Sales Hub – Cleanse, automate, and accelerate deal pipeline data so your sales team can do what they do best: sell.

Service Hub – Maximize your customer satisfaction with a frictionless service process—from chatflows and tickets to your very own knowledge base.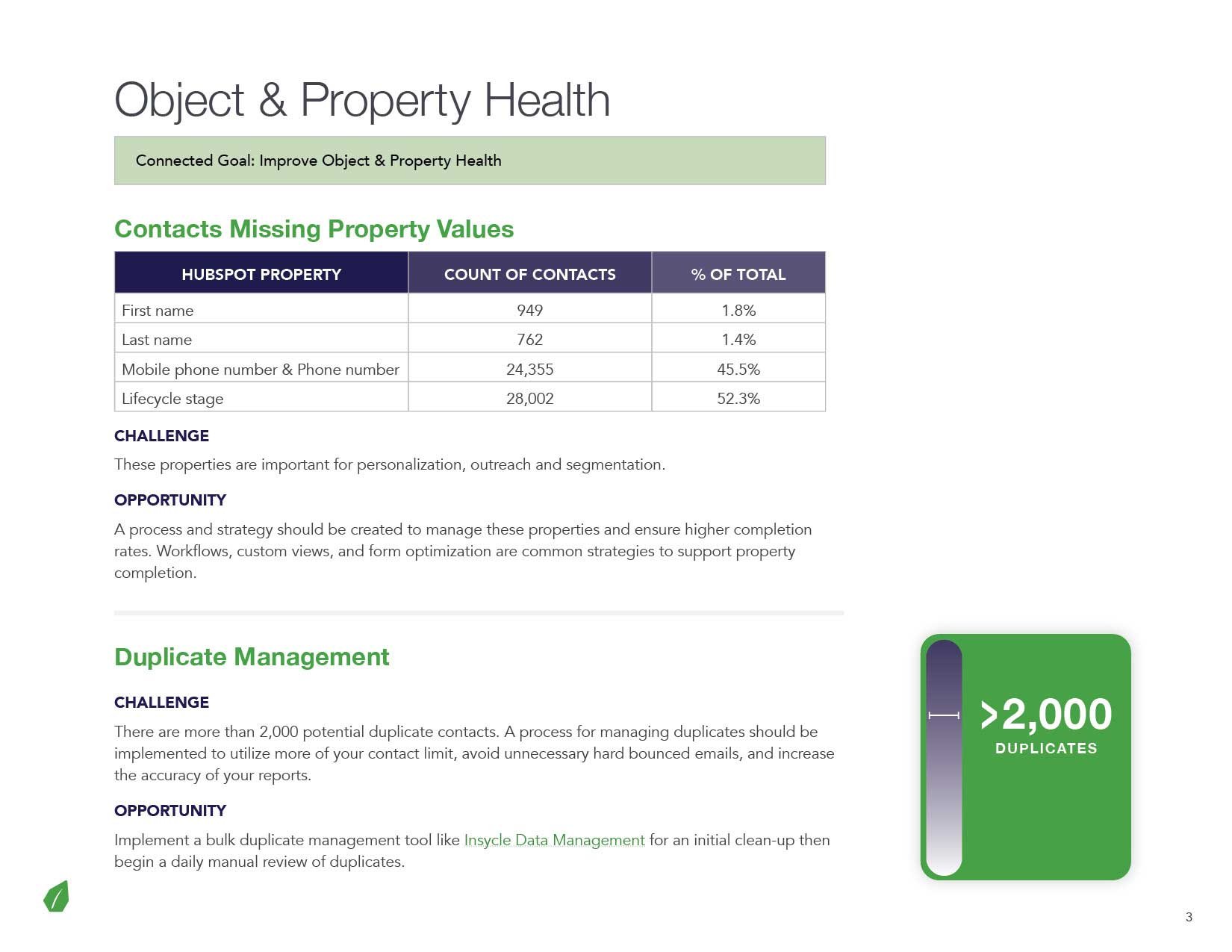 Healthy Data, Healthy Portal
The bread and butter of your CRM.
Your contacts, companies, deals, and tickets serve as the basis for your reporting, so it's essential that your data is clean, accurate, and optimized. Our Portal Optimization Audit will help you make it happen.

Your HubSpot Portal

Optimization Scorecard
Like a report card, but less intimidating.
Once we've audited your HubSpot portal, it's time for the real work to begin: putting those insights into practice. We make it easy with our Portal Optimization Scorecard, which covers:

Opportunities – The best ways to optimize and maximize your team's usage of HubSpot.

Information – We skip the jargon and keep it simple with actionable insights and to-dos.

Tips – Big or small, we'll cover every way you can make the most of your portal.

Challenges – If there are any issues or risks with your data or portal, we'll track them down.
Take a Peak Behind the Curtain
HubSpot Portal Optimization Audit
$2,500 one-time payment
Identify HubSpot data issues that are causing friction

Evaluate portal settings and configuration

Review workflow and sequence performance

Audit contact properties for maximum utilization

Identify duplicate record volume

Improve your team's productivity and workflow

Maximize the return on your investment in HubSpot
You've got questions, we've got answers.
And if we don't, you can contact us here.
GreenHouse is a Trusted Partner
From understanding our goals and values to creating strategic content and maximizing our digital presence, the GreenHouse team has truly become a trusted partner to our marketing department at Addition Financial. They have educated us on digital trends and helped us maximize our investment in HubSpot. Based on their expertise, follow-through, and results, I would gladly recommend GreenHouse to other financial institutions.
Suzanne Dusch

Addition Financial
Great to Work With - Dependable Results
It has been a joy to work with GreenHouse. They are always attentive and listen to our requests, and act in a timely and satisfactory manner. Strong communication and consistency has created a reliable team we can depend on. I would recommend GreenHouse.
Will Minnick

Sound Credit Union
Excellent and knowledgeable vendor
GreenHouse Agency assisted us with developing a custom solution for anonymizing and integrating data from our core system into HubSpot Marketing Hub. The team was very thorough in learning about our desired outcome from a strategic standpoint and very thorough during the entire process. They worked directly with our IT department, all the while ensuring that we (marketing) understood the processes and were informed of progress. It has been a pleasure to work with them, and we look forward to engaging them in future projects as we move toward automated email marketing.
Carolyn Ridout



Education First FCU
HubSpot Audit Resources
Take a closer look at the ins and outs of HubSpot portal audits.